PROVEN LIFE SCIENCE SALES AND MARKETING PROFESSIONALS: GROW YOUR COMMERCIAL SUCCESS EXPERTLY AND COST-EFFECTIVELY
Experience and Market Knowledge
Genovative Solutions and its sub-contractors have spent their careers in the Life Science market. We understand the market, the technologies and the how to address your target audience in ways that they find meaningful. With extensive Life Science Sales Experience we understand the customers' needs and how to sell and market to meet those needs.
Decades of success in Sales and Marketing and scientific products, technologies, services
Scientific Acumen and in-depth knowledge of a broad range of Life Science market and technologies enables us to better position and sell your solution to the market
Proven ability to identify, develop and establish target-market-specific messaging and the vehicles for delivering the message effectively
Long-standing interactions with key opinion leaders, enabling communication to develop, test and enhance messaging effectiveness
Rapid Track to Results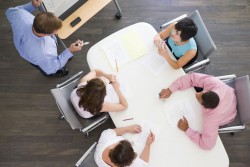 Our extensive experience enables us to work with you to rapidly develop the tools you need to achieve your goals rapidly and efficiently. Our expertise, as demonstrated by our history of commercial success enables us to do what you need done effectively.
Thorough understanding, practical experience and track-record of success bringing dozens of products and services to the market can be applied to your needs
Using proven and tested processes as a starting point, we rapidly refine and customize these processes to fit the client's needs OR develop new approaches as needed
Knowledge and Experience combine to yield efficiency to get your project done well and done expeditiously.
Well-Practiced in implementation of programs to ensure Rapid and Successful Commercialization for small to mid-sized Life Science companies
Cost-Effective Quality
We are highly efficient and extremely proficient. Combining these two characteristics enables us to be cost-effective. We understand small companies' needs to control costs; we have worked for small companies. We deliver on our clients' needs at the best possible pricing to meet their budgets.
Speedily completing your project eliminates time loss and costs associated with delays to market
Avoid long term expenses, time lost and overhead incurred when hiring permanent employees
Low overhead, use of expert sub-contractors and first-hand knowledge of financial constraints on small Life Science companies enables us to offer premier services at reasonable prices
More Information and Examples of Our Work
Genovative Solutions Sales and Marketing Consulting